Return Policy
FORBUSITEHats.com Return Reason
Thank you for your order at FORBUSITEhats.com! FORBUSITE' return policy is based on a simple premise; we want you to be happy with your purchase. If the merchandise you receive from us does not meet your expectations for any reason, you may return it for a refund for the cost of the merchandise excluding shipping and handling charges, or you may request an exchange.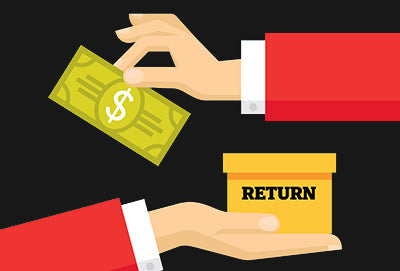 ---
Please follow these few steps to ensure that your return will be handled accurately and quickly: (Un-worn merchandise only please)
1. If you are unhappy with your order, we are happy to return or exchange any item within 30 days of delivery
2. Please email us before sending back your purchase. Write down your username, email address, and order ID on paper, and send it in with your purchase.

3. When we receive the Return Slip and the hat, we will process your return usually in 3 to 5 business days. No return/exchange is acceptable after 60 days (75 days for international orders) of the original outgoing shipment date.

4. If the hat has any kind of tag on it, removal of the tag will void any return. Do not remove any tags. In the same regard, any hat with size reducing tape adhered (stuck) to the interior of the sweatband is considered worn and NOT returnable.
5. Shipping charges are not refundable unless it is caused by our mistakes, the item is defective or it was damaged on the way.
6. You are responsible for shipping the item(s) back to us. Please pack the hat carefully and insure the box. You may send your order back to us through the shipping carrier of your choice. We are not responsible for hats damaged in shipping.
7. Make sure that the box that you return the hat in is in good, strong condition. If the box that we sent the hat to you in is now weak or damaged, please use a new box to return your hat in.
8. Loss and Damage ClaimWe will resend or full refund if the order was lost on damaged. But if your claim does not follow our policy (e.g. late claim, inaccurate info, missing paperwork) your claim will be denied.
9. Return shipping reimbursement: Please note the customer pays the return postage. For an incorrectly fulfilled order, we will issue a prepaid return label. For oversized packages, we do not provide return reimbursement. No exceptions. When the return shipping label was created by us, please be noted that our return shipping label expires 14 days from the day we sent it out.
Refund & Exchange Process
1. We must receive your order back before issuing a refund or an exchange. If you need an immediate shipment, please submit a new order.
2. We process refunds and exchanges in 1 to 2 business days of receiving the return package. If stock is unavailable, we will notify you immediately.
3. For all exchanges, we re-ship for free. Note that a 15% restocking fee will apply on the second exchange from the same order.
4. Undeliverable shipments - Shipments returned to us due to an incorrectly provided address, unclaimed, or refusal, we will automatically refund the order cost of the merchandise only minus a 15% restocking fee at our discretion. For all refused UPS shipments, the return shipping charge will be deducted from the refund.
5. We will not be responsible for any error caused by the carrier (USPS or UPS) unless it is a guaranteed shipping method. If the carrier agrees to refund, we will process the refund based on its decision.
6. If free-shipping-qualified order is returned, actual outbound shipping costs will be deducted from your return refund.

7. We decide and apply restocking fees case by case. Base restocking fee rate starts from 15% and up of gross refundable amount. 
where a 15% restocking fee applies:

- Returned due to incorrect address, unclaimed, or refused shipment. - Second or more repeated exchange.
If you have further questions about our policy please email us: info@forbusitehats.com or yaohj1986@hotmail.com

Return address to:
Attn: FORBUSITEHats Returns Center
Vera+F, 317 New South Rd, Hicksville, NY 11801 US